To many citizens of the Marvel Universe, Norman Osborn is an eccentric billionaire. A man who has put his demons behind him. The truth of the matter is Norman Osborn is always teetering on the brink of a relapse into the villainous Green Goblin. With advanced technology, superhuman strength, and regenerative healing, the Green Goblin is one of the Marvel Universe's most frightening villains, and a longtime nemesis to Spider-Man.
But Norman Osborn rarely makes public appearances as the Goblin. As one of the richest men in the world, Osborn himself is virtually untouchable, making his human just as effective as the sadistic goblin. Can any team of heroes truly stand up to the might of Norman Osborn and the Green Goblin?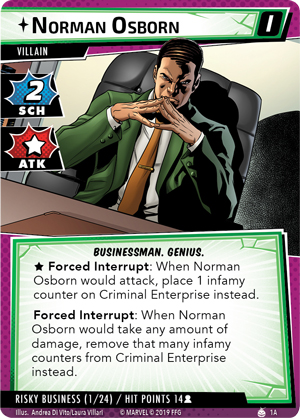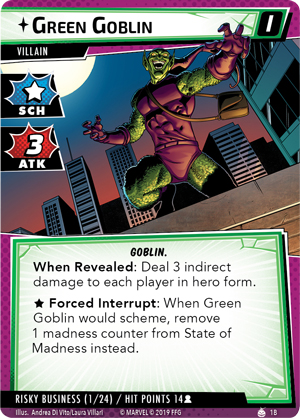 This 78-Card pack introduces two new scenarios to Marvel Champions showcasing the devious Norman Osborn and his sadistic alter-ego, the Green Goblin. Also included are four modular encounter sets that can be mixed in with these scenarios to customise your experience! Are you ready to take your games of Marvel Champions to the next level and take on Norman Osborn?
Goblin Gimmicks
The Green Goblin Scenario Pack contains four modular encounter sets that allow you to customise both scenarios contained in the pack. The choice of which sets to include is up to you (both setup cards provide a recommended set, but any of the four can be used) or selected at random. If you want an easier challenge, you don't have to include any modular encounter sets, if you want a greater challenge, you can include multiple modular encounter sets.
The "Goblin Gimmicks" encounter set allows Osborn (or other villains) to bring his bag of tricks to his fight against the heroes of the Marvel Universe. The Goblin Glider (The Green Goblin, 33), for example, is a floating glider that can travel up to blistering speeds of 90 MPH and gives its wielder unparalled maneuverability. In Marvel Champions, the glider its wielder's attack power, but a quick-thinking hero can sabotage the glider on their turn!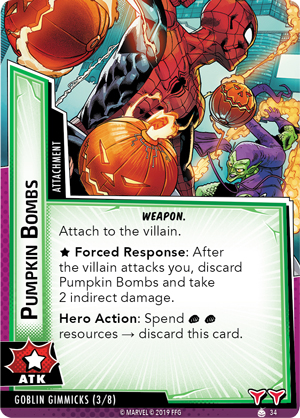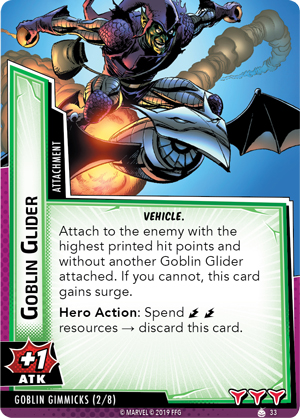 When fighting the Goblin, you always have to be on the look out for Pumpkin Bombs (Green Goblin, 34 ), grenades that can deal serious damage to any do-gooder caught in their blast. The Jack-O-Lantern shaped bombs are deadly, and come in several varieties. However, like the glider, a hero with some strength behind their punches can disarm the pumpkin bombs before they have a chance to do any damage!
The Goblin is more than just cutting-edge technology, his Regenerative Healing (Green Goblin, 36) makes him a true terror to behold. You have limited opportunity to actually deal damage to the Green Goblin in "Risky Business," and being able to simply heal that damage may make the Green Goblin seem like an insurmountable enemy. But a hero never gives up, and with the power of a Marvel Champion, you can stop the Green Goblin in his tracks!
Sadistic Choice
Whether he's building a criminal empire as a ruthless businessman or leading a goblin army, as a sadistic madman, The Green Goblin is one of the most dangerous villains in the Marvel Universe. Do you have what it takes to go toe-to-toe with this dastardly foe?
*This is an expansion set and requires the Marvel Champions core set to play.