Zombicide: Invader is the first game of the Zombicide Sci-Fi setting. In this standalone game, players are survivors of a human colony on PK-L7, a distant and hostile planet. The gold rush for Xenium, a new fuel for space travel, turned into a nightmare as the Xenos, an alien species, turned into feral monsters.
Zombicide: Invader retains the core Zombicide mechanics and introduces new ones, with survivor types (civilian and soldiers), environment features, futuristic weapons, and robots.
Will you fight Xenos as an ironclad soldier or as a resourceful civilian (another word for "adorable scoundrel")? You choose!
72 miniatures
6 survivor plastic dashboards, color bases, and ID cards
9 double-sided game tiles
125 mini-cards
48 plastic trackers
65 tokens
6 dice
1 rulebook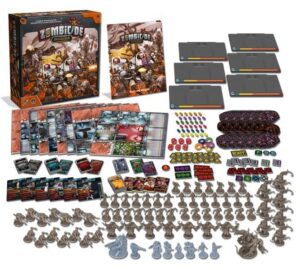 New for Zombicide: Invader features Machines and new support weapons for Survivor teams.
Bots are mobile war machines remote controlled by their owner. They can accompany the team, bringing sizeable fire-support, or go off on their own to investigate dangerous areas without the risk of losing a Survivor. Invader comes with a Peacekeeper Bot, equipped with a powerful melee weapon and a fast-firing ranged weapon.
Sentry Guns are fixed turrets with ranged firepower. They are great at securing chokepoints and laying ambushes for rampaging Xenos. Invader features the Falchion Sentry Gun, a fixed machine gun with a solid rate of fire and a long range.
Zombicide's sci-fi range features several models for Bots and Sentry Guns. They have different game characteristics and can be swapped in any way you want to fit your play style.
Game Makers Description
Checkout the official game makers description HERE!
Game Resources
Access the free rule book, direct from the game maker – Zombicide: Invader – Rule Book